Woke up early today with the intention of going to the Saturday Market.  It was a cloudy day, but  warm.  We debated about taking our new umbrella but decided against it.  Of course after 15 minutes walking, it started to sprinkle.  We wanted to see the Market so turning back was not an option.  We are glad we kept on walking because we came across a uniquely decorated wedding car, parked outside the church patiently waiting for the bride and groom to make their get away.  We have found out so many times the hard way about forgetting our umbrella,  today was no exception, we need to watch the citizens of Treviso, they always seem to know when it is going to rain.
Saturday - Market Day
Just to give you an idea about the Market in Treviso.  There are two Markets a week, Tuesday and Saturday.  They are only open in the mornings and they can be quite different depending on the day.   It seems to us that you can buy practically anything at the Market.  We were looking for clothes pegs , wire whisk and a salt shaker.  We were able to find all these things and more.  The clothing is very nice.  You can find great clothes at a fraction of the price in the stores.  Danna had a good time browsing through many stands.   You can even buy yourself a bird.........need some drapes,  they can do that too!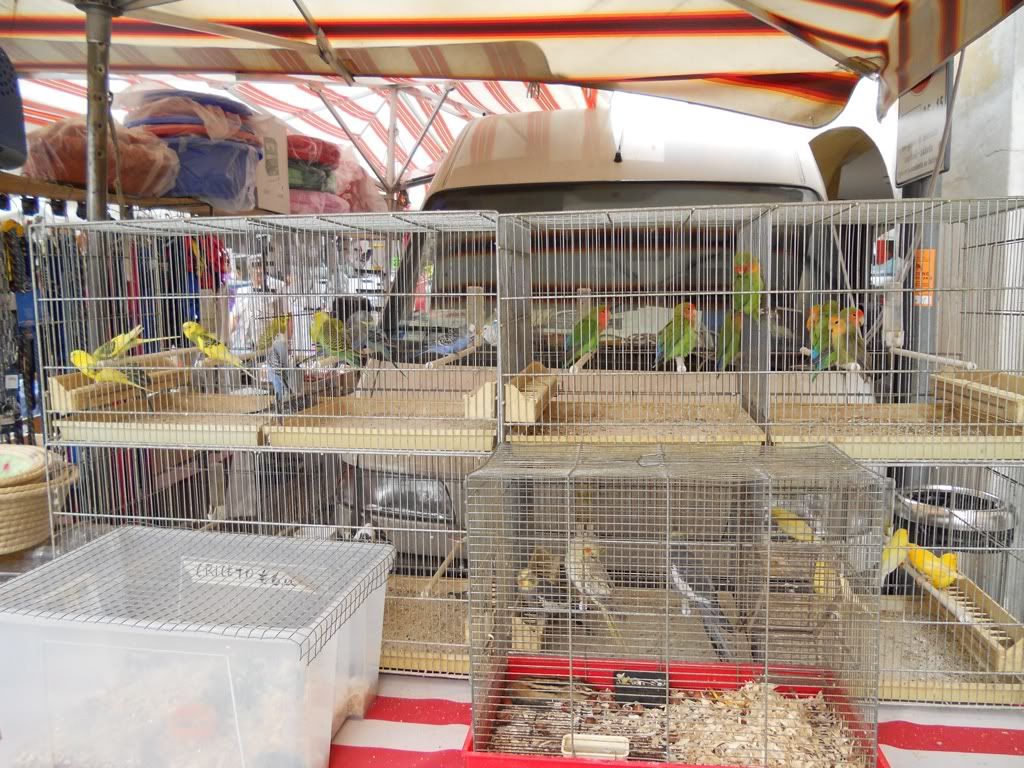 The best part of the Market was all the produce stands, displayed so beautifully.  We bought some peaches that tasted like sunshine and the best green beans we have eaten in a long time.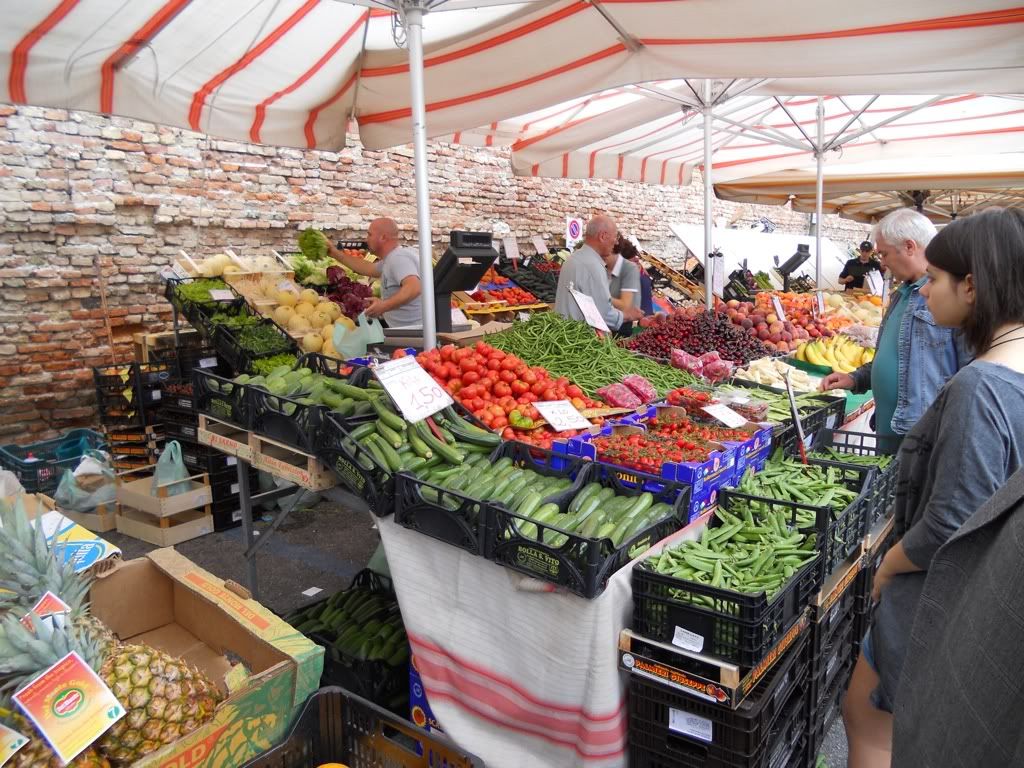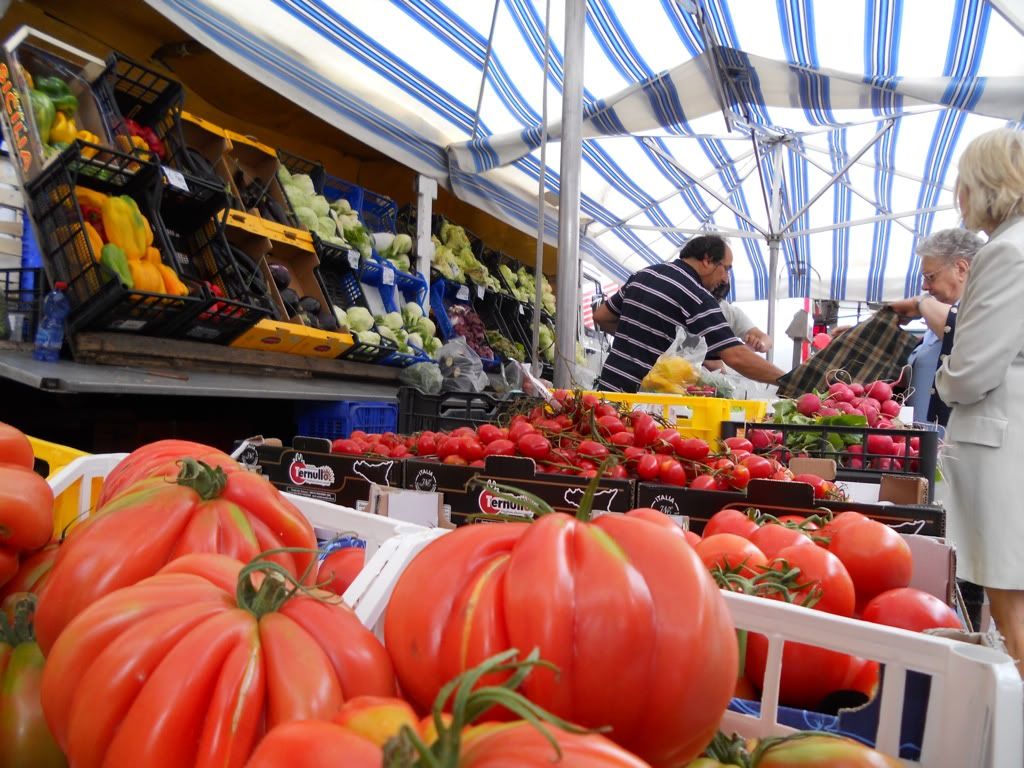 Sunday 10 June 2012
Elisabetta called and asked us if we wanted to go to the beach.  We eagerly said yes as we were wanting to visit a seaside city and experience the civilized way the Italians enjoy the beach.  They really know how to relax on the beach, you can rent an umbrella and loungers and lay claim to your own little piece of heaven.   On Sunday morning the weather was overcast, but we decided to go anyway and walk around the city and play it by ear.  Elisabetta and her friend Christina picked us up from the apartment and we made the one hour drive to Caorle.   Caorle is a very colorful, clean little city with shops, good restaurants and a very beautiful beach.  Elisabetta's family has spent many summer vacations in this delightful area and she entertained us with stories of meeting cute German boys and learning to speak German at the same time.  All this flirting and chasing the German boys every summer payed off because she became a German teacher and teaches in a school just outside Treviso.  She is also fluent in English and has helped us with our Italian by giving us many pointers on how to make speaking easier.  We have enjoyed her company and are grateful for all the lessons.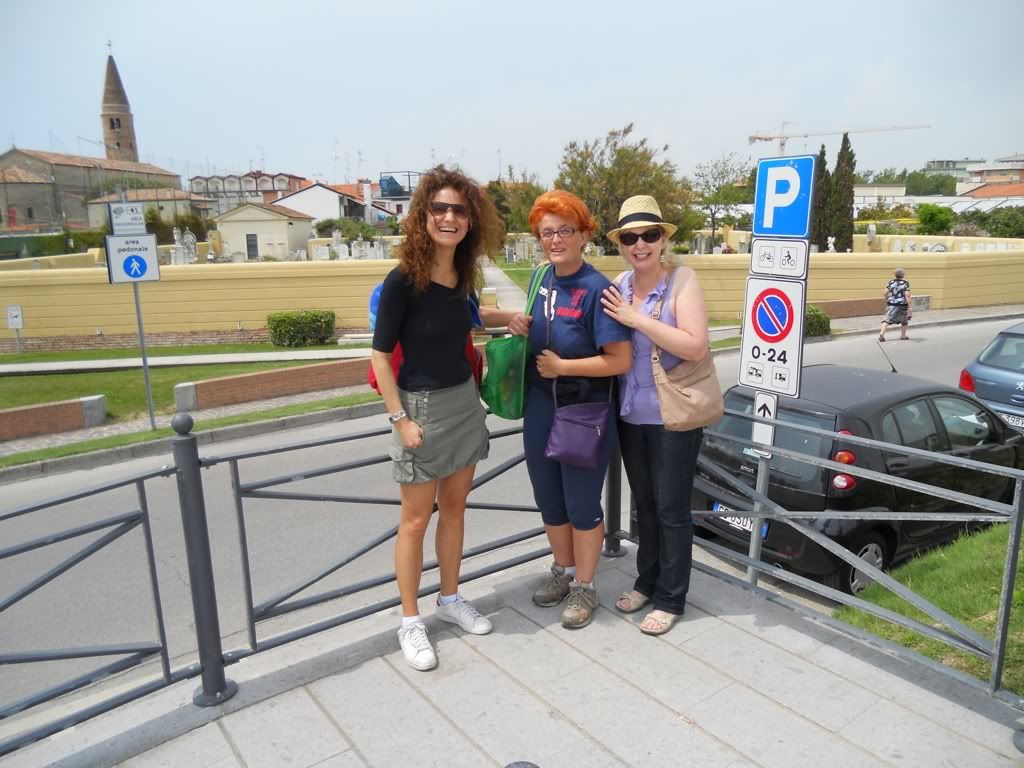 Here are some pictures of the town. On our walk we came across a procession heading towards the church. The young children were going to receive their first communion. Very important day as they even had a couple of police officers making sure all the pedestrians did not cross in front of the group.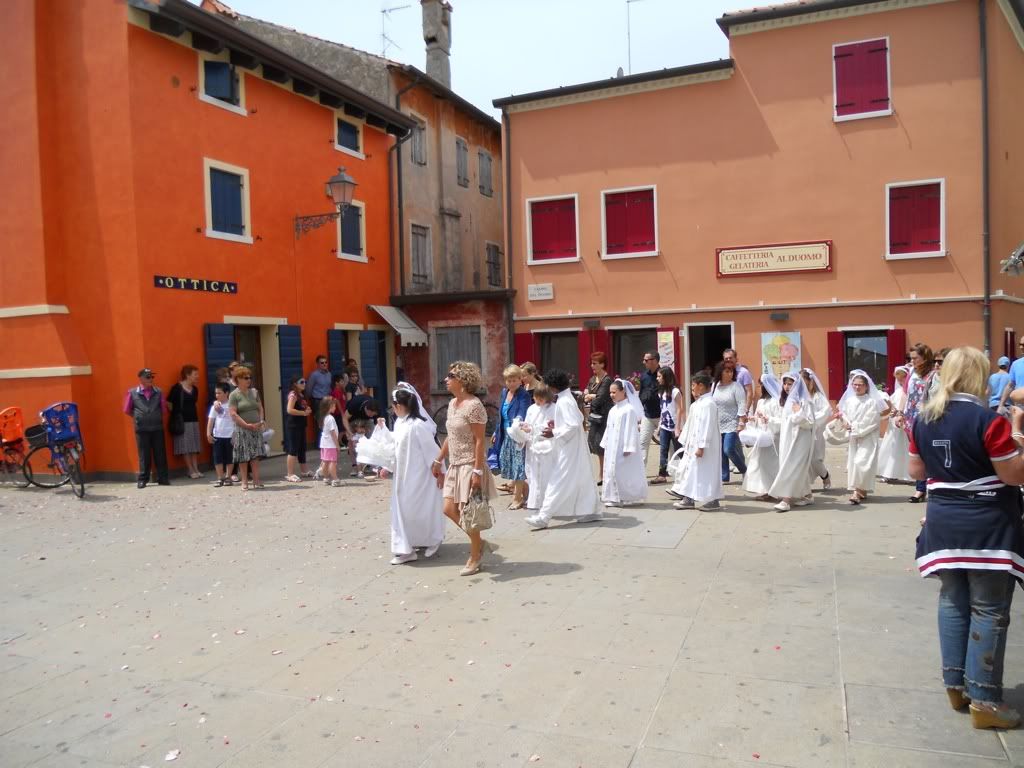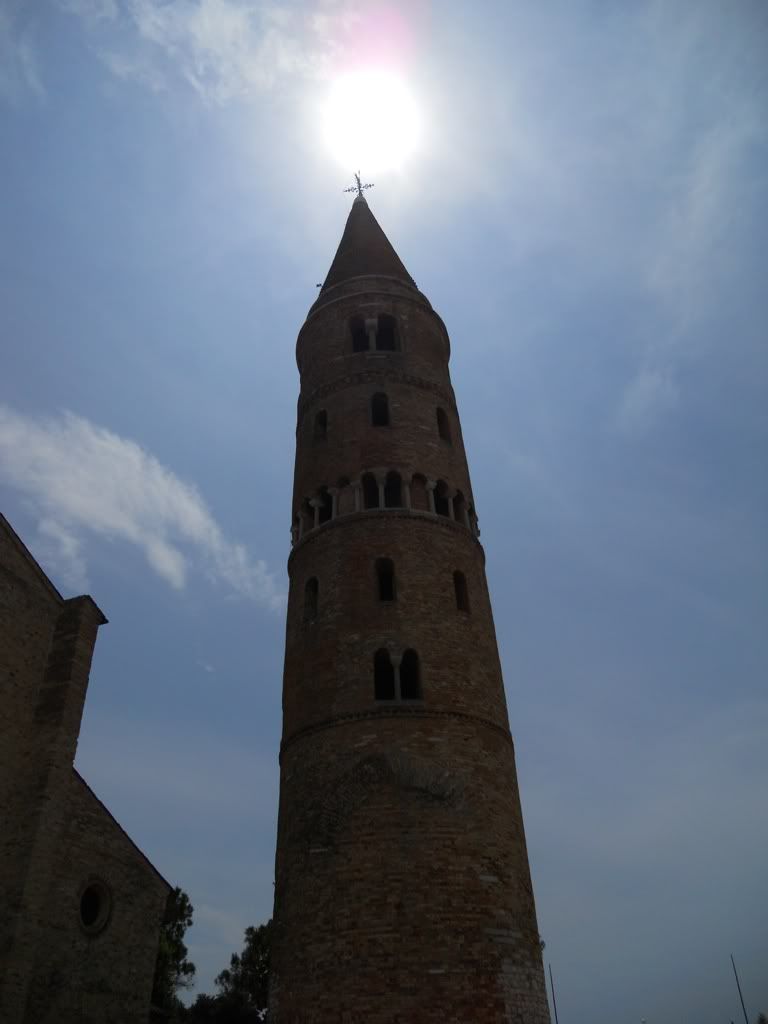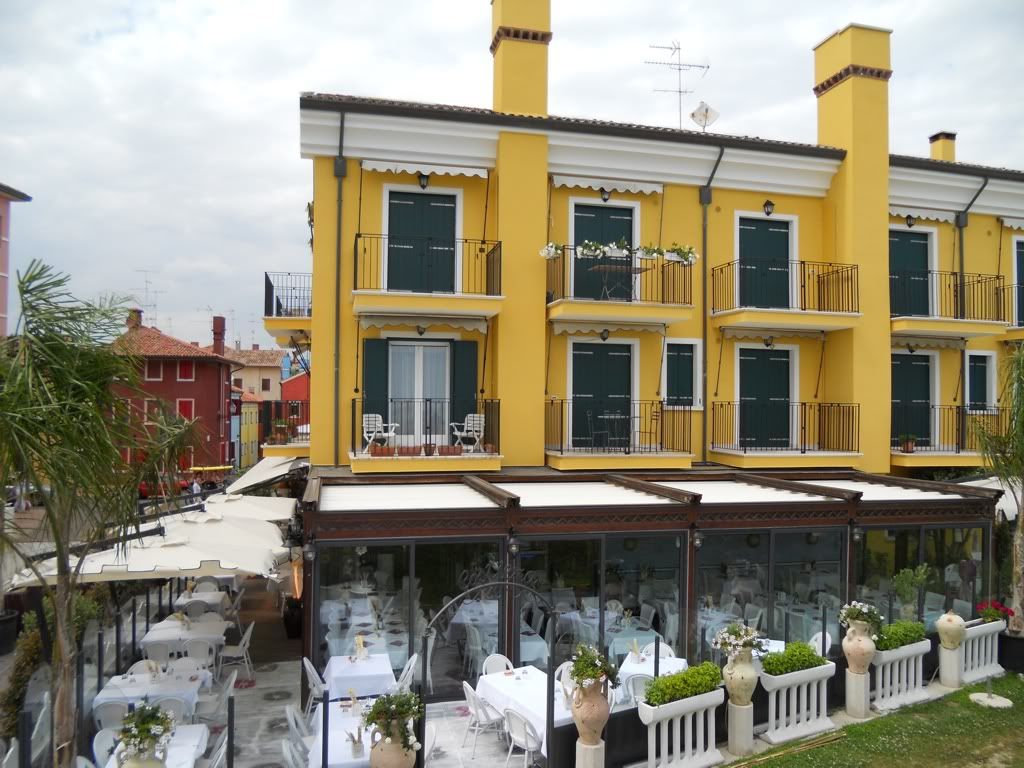 We had a great lunch at a restaurant that Elisabetta and Christina had not tried before.  We all had a seafood pasta. We spoke in Italian and English, sometimes mixing the two languages together. It did not matter we were speaking the language of good food and a good time.  We find that laughter has no language barrier.  After a coffee we decided to stroll along the beach and were excited to find these interesting carvings.  They had been carved over many years as a summer competition.   The stone chair was very confortable.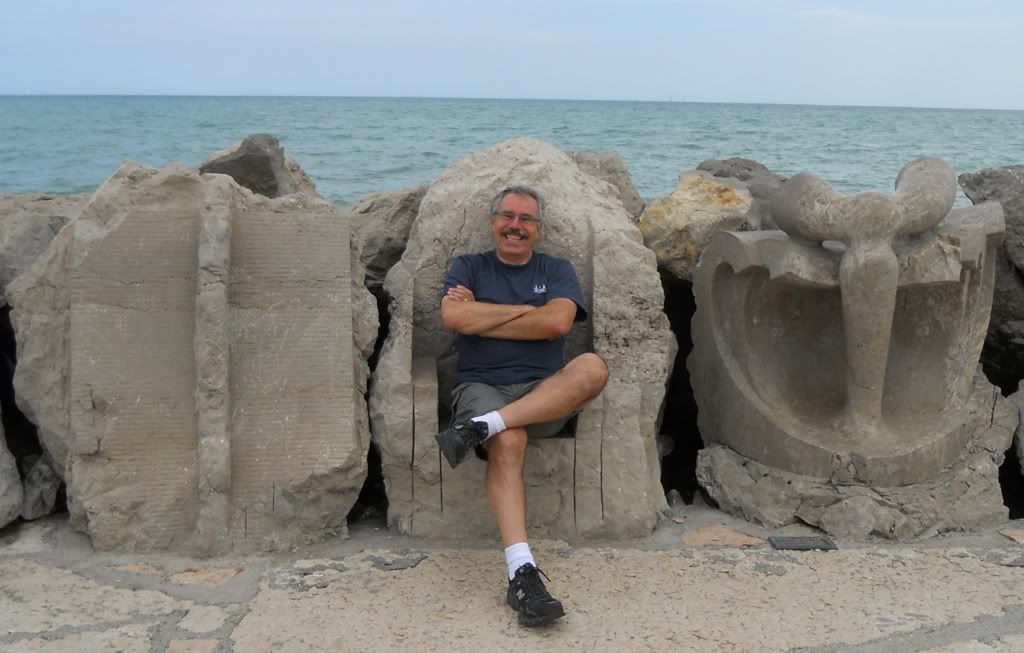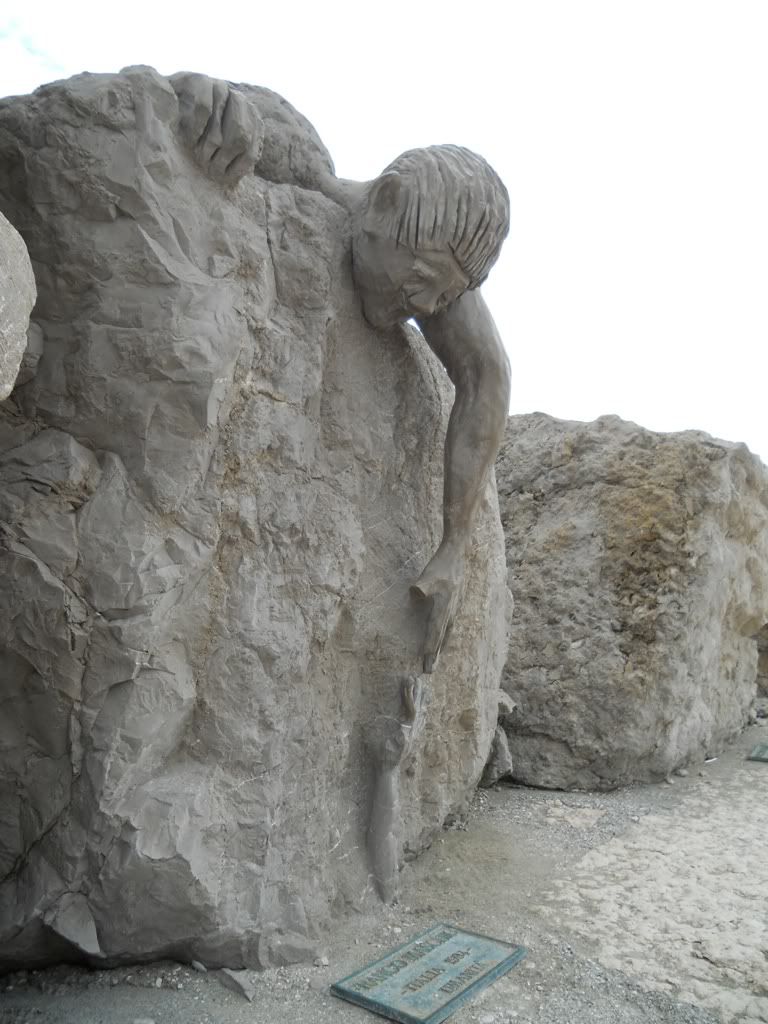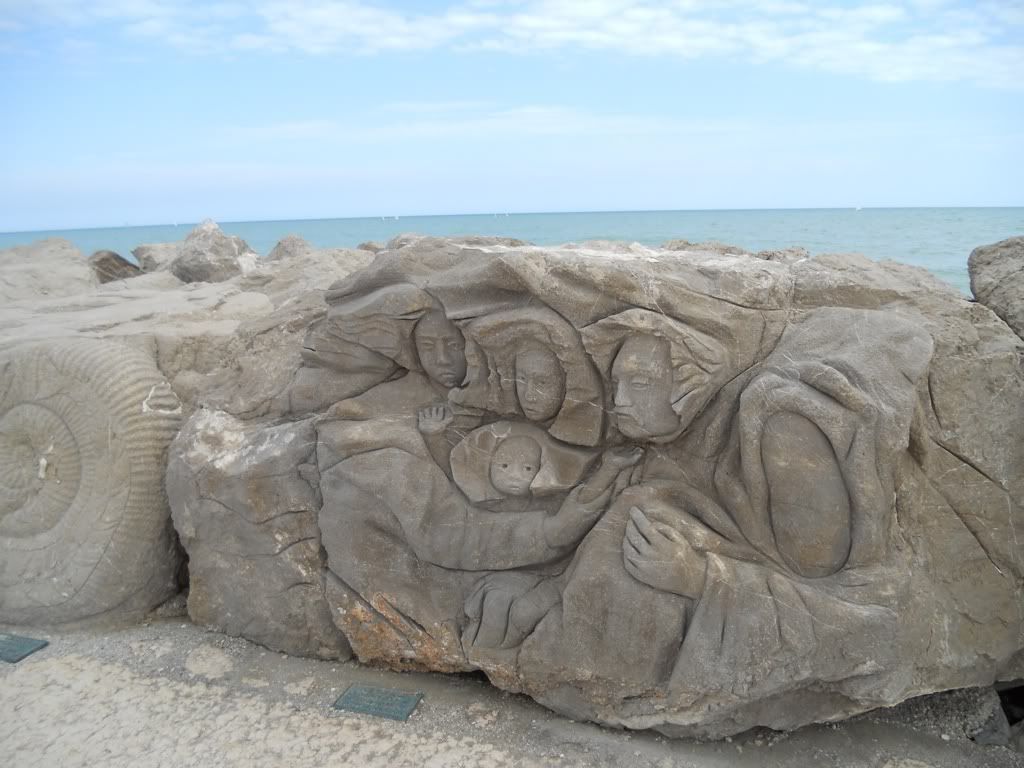 The beach was an endless strip of sand. Beach umbrellas are sprouting in the sand like mushrooms.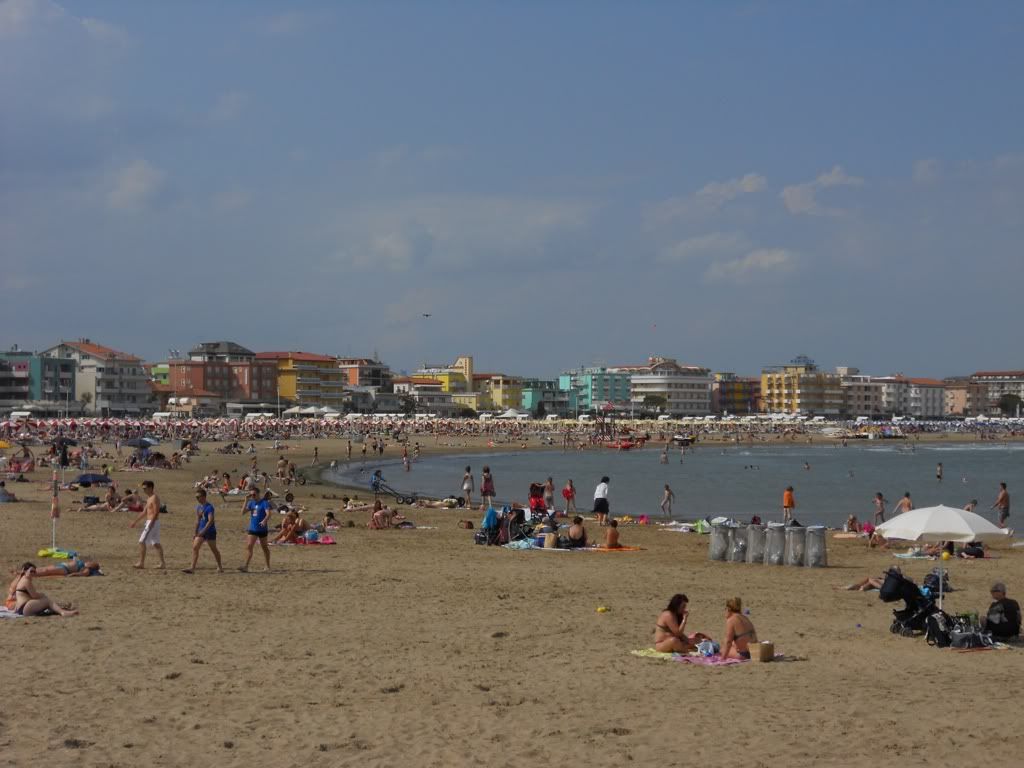 We visited the church on the beach.  The church was simple in design but the stone statue of the Virgin Mary and Baby Jesus at the alter had a life like quality.  We lit a candle for Stephen